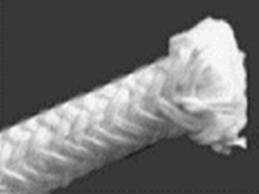 Ceramic Fiber Braided Rope
Product Description
Ceramic Fiber Braided Rope

Ceramic Fiber Cloth is a compression packing for very high temperature duties. It is manufactured from an exceptionally stable fibre material that is soft, non-irritating, non-hazardous & is not limited by World Health Organisation or European Union restrictions.
These heat resistant fibres are produced using advanced chemical fibre technology. They are spun into a flexible yarn in the UK, together with a low percentage of glass fibre and Inconel wire reinforcement.
Ceramic Fiber yarn, Rope, Cloth contains no organic agents or processing additives. It therefore retains its physical and chemical properties at very high temperatures and does not decompose into hazardous substances, as happens with many normal ceramics.

Typical Applications :
Compression packing of Ceramic Fiber Product Hi-Temp are recommended for very high temperature static sealing duties or slow rotary applications. It replaces ceramic yarn packing and radiation seals on BOS plant, and ceramic packings and vessel lid seals on secondary steel making plant.
Other examples include door seals for annealing furnaces at steelworks, kiln packing, protective surfaces on pottery kiln cars, and stem gland sealing on valves handling very high temperature gases.
Ceramic Fiber Textile resist Hi-Temp include braided insulation sleeves, webbing tapes, ladder tapes, twisted ropes, lagging ropes, blankets and paper, and woven cloth. These are used for thermal insulation and heat resistant duties where flexibility and resilience are required.
Prime features :
• Non-hazardous heat resistant fibre construction
• 1000°C for constant duties, with excursions to 1100°C
• Competitively priced alternative to normal ceramic fibre packings
• Far better value for money than other non-hazardous high temperature materials, such as those made of pure silica fibre
• Good chemical compatibility
Contact Us
A-510, NEELKANTH BUSINESS PARK, NEAR RAILWAY STATION, VIDYA VIHAR (WEST), Mumbai, Maharashtra, 400086, India
Phone :+918045479276