Recoil Hoses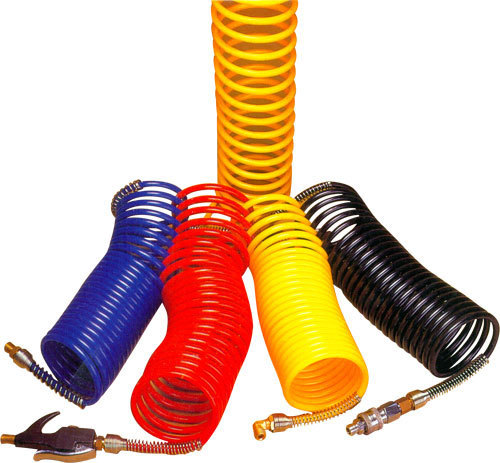 Recoil Hoses
Product Description
"YOGDEEP" Recoiled Hoses:

Salient Features:
Lightness

Yogdeep Nylon Coiled Hoses Weight approximately one tenth of conventional rubber hoses.

Low Pressure Losses :
Because of smoother internal surface, pressure losses are low.
Excellent Resistance To :

Abrasion, even in the presence of dust, sand and metallic particles.
Vibration.
Crushing.
Impact, particularly at low temperatures(-40 C to -50C)
Ageing under a wide range of conditions of use.
Weather
Cold flow and to tearing of the tube from its connector.
Fatigue cause by repeated flexing.

Applications of Retractable Nylon Coiled Hoses:
YOGDEEP Retractable Nylon Coiled Hoses find applications where air sanders, air hoist, blow guns drills, moving cylinders, nailers, nut runners, clippers, staplers, riveters, paint sprayers, screw drivers, hoists, heavy duty tools and other pneumatic tools are used.
Contact Us
A-510, NEELKANTH BUSINESS PARK, NEAR RAILWAY STATION, VIDYA VIHAR (WEST), Mumbai, Maharashtra, 400086, India
Phone :+918045479276