Air Brake System Tubings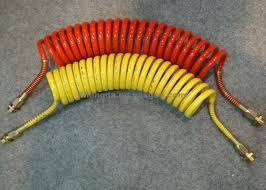 Air Brake System Tubings
Product Description
Non Metallic Air Brake System Tubing
YOGDEEP Non-Reinford Nonmetallic Air Brake System Tubing for Motor Vehicles as per International Standards SAE J844, DIN 74323 and DIN 74324 in Nominal Outside Diameters of 1/8, 1/4, 5/16, 3/8, 1/2, and 5/8 And Metric size outside Diameter of 4mm, 5mm, 6mm, 8mm, 9mm, 10mm, 11mm, 12mm, 15mm, and 16mm, This Tubing is produced in straight and Coil form.
Straight Tubing is Intended For Use In The Air Brake Systems for Connections which Maintain a Basically Fixed Relationship Between Components During Vehicle Operation. It Should not be used In Flexing Applications Such as Frame to axle. Coiled Tube Assemblies are Required for those Installations Where Flexing Occurs.
When Installed In A Vehicle This Tubing Shall Be Routed And Supported So As To :
Eliminate Chafing, Abrasion, Kinking, or other Mechanical Damage.
Minimize Fatigue Conditions.
Be Protected Against Road Hazards by Installation in a protected Location or by Providing
Adequate Shielding at Vulnerable areas.
Not be Exposed to Temperatures Internal or External, over + 93C (+200F) Below -40C (-40F).
Not be exposed to Attack by Battery Acid.
Avoid Excessive Sag.