PTFE O Rings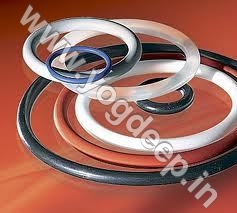 PTFE O Rings
Product Description
PTFE is the chemically inert of the O-ring materials. It is resistant to most chemicals including acids, bases, oils, steam and other chemicals. It is also very tough and abrasive resistant. However the material is not easily compressed, and therefore may not seal as easily as some of the other polymers. Its outstanding tear resistnace and abrasive resistance result in its slippery surface properties that make it advantageous for use in seals in moving systems such as mass spectrometer probes and valves.
PTFE is recommended for:
Chemical environments
Use is acidic or basic environments
Sealing of moving or sliding surfaces
PTFE is not recommended for:
Low compression vacuum sealing flanges
High vacuum seals
High temperature steam.