PU Coiled Hoses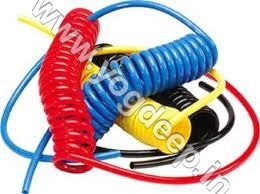 PU Coiled Hoses
Product Description

























YOGDEEP Polyurethane Tubes Applications :

Pressure hydraulic and air machines
Paint Machines
Printing Machines

Packaging Machines

Medical Appliances


Analytical Apparataus
Food Machines
Compressed air lines on Pneumatic Control System
Air lines on textile machinery


Sizes Available
OD (mm)
4
6.1
8
8-8.3
10
11
12
13
14
16
ID (mm)
2.5
3.9
5
5.9
7
8
9
10
11
13
Equivalent to
PU-3
PU-4
PU-5
PU-6
PU-7
PU-8
PU-9
PU-10
PU-11
PU-13

Other Sizes Available On Request
OD
5mm
8mm
10mm
1/4"
3/8"
1/2"
5/8"
ID
3mm
5.5mm
8"mm
1/8"
1/4"
3/8"
1/2"

Salient Features :

Polyurethane Lightness - 9 times lighter than copper tublings.
Rubber like flexibility over a wide range of temperature and hence radii of curvature can be very small withour flattening which causes loss of pressure.
Resistance of all types of weathering.
Polyurethane (PU) has Excellent resistance to oils, grease, aliphatic hydrocarbons, oxygen and ozone.
Good resilience which allows repeated mounting on to the connecting pieces. (cutting off is not required)
High cutting strength.
Folding stability.
Resistance to flex cracking.
Multicolor for easy identification.
Non-toxic

Salient Features for coil form :

Light Weight
Space Saving

Working Length - 2 meters to 20 meters.

Working Pressure - upto 10 Kg/Cm2.











































Contact Us
A-510, NEELKANTH BUSINESS PARK, NEAR RAILWAY STATION, VIDYA VIHAR (WEST), Mumbai, Maharashtra, 400086, India
Phone :+918045479276